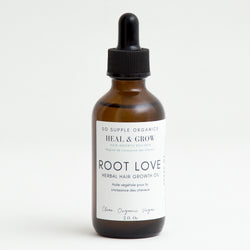 ROOT LOVE Herbal Hair Growth Oil
An herbal infused oil blend packed with organic and Ayurvedic ingredients known to heal the scalp from issues like dandruff, eczema and psoriasis, improve hair growth, reduce hair shedding and strengthen the hair.
Perfect for treating lost edges, postpartum shedding, stunted hair growth, hair loss due to stress, flaky scalp and dry brittle hair. 
To use:
1. Apply all over the scalp or in the affected areas. 
2. Massage the scalp for at least 3 minutes to stimulate blood flow to the hair follicles. 
Ingredients:
Organic Castor Oil, Grapeseed Oil, Organic Bhringraj, Organic Amla, Organic Neem, Organic Rosemary, Cloves, Peppermint Oil, Tea Tree Oil.